March 12, 2018
VANCOUVER, BC – Goldex Resources Corporation (TSX VENTURE: GDX, Frankfurt: WKN-A2AEDT, Ticker: G6T2) ("Goldex" or the "Company") the Company is pleased to announce that a recent discovery area has attracted the interest of artisanal miners.  More than a thousand artisanal miners visited the property to investigate the discovery. A video can be seen at https://youtu.be/fFPQyBVvzEo.  Working with the local chiefs and mayors the Company's joint-venture partners are closing off the area with a protective grid.  The area is under the control of the National Directorate of Geology and Mines of Mali, the Ministry of Mines, the Ministry of Territorial Administration and Decentralization and the Ministry of Internal Security and Civil Protection.  The Company estimates it will take two or three weeks to complete the installation.
Additionally, the Company has been advised that as at March 1, 2018 there was a short position against the Company of 137,700 shares which was 28.735% of its trade volume for the period of February 16 to 28 2018. Short positions reports can be found at https://shortdata.ca/?c=goldex-resources%20corporation-short-sales&sym=GDX.V and http://www.iiroc.ca/news/Pages/Short-Sale.aspx
CHARLES ROSS, President
GOLDEX RESOURCES CORPORATION
For more information please visit: www.goldex.ca
Neither the TSX Venture Exchange nor its Regulation Services Provider (as that term is defined in the policies of the TSX Venture Exchange) accepts responsibility for the adequacy or accuracy of this release.
Forward-Looking Statements
Statements in this news release that are forward-looking statements are subject to various risks and uncertainties as disclosed herein and elsewhere in the Company's periodic filings with Canadian securities regulators. When used in this news release, words such as "will", "plan", "estimate", "expect", "intend", "potential", "should", and similar expressions, are forward-looking statements. Forward-looking statements include, without limitation, statements regarding future oriented events and other statements that are not historical facts. Forward-looking statements are based on a number of assumptions and estimates that, while considered reasonable by management based on the business and markets in which the Company operates, are inherently subject to significant operational, economic and competitive uncertainties and contingencies. Such forward-looking statements should therefore be construed in light of such factors. There can be factors that cause actual results, performance or achievements to be materially different from those anticipated, estimated or intended in the forward-looking statements over and above those identified herein. There can be no assurance that management's expectations or estimates of future developments, circumstances or results will materialize. Accordingly, readers should not place undue reliance on forward-looking statements. The forward-looking statements in this news release are made as of the date of this news release, and Company disclaims any intention or obligation to update or revise such information, except as required by applicable law, and the Company does not assume any liability for disclosure relating to any other entity herein.
Suite 2300- 1177 West Hastings Street Vancouver British Columbia Canada V6E 2K3
Telephone: (604) 699-4300 Facsimile: (604) 909-4682
www.goldex.ca
Regional geology and location of Korokoro and major deposits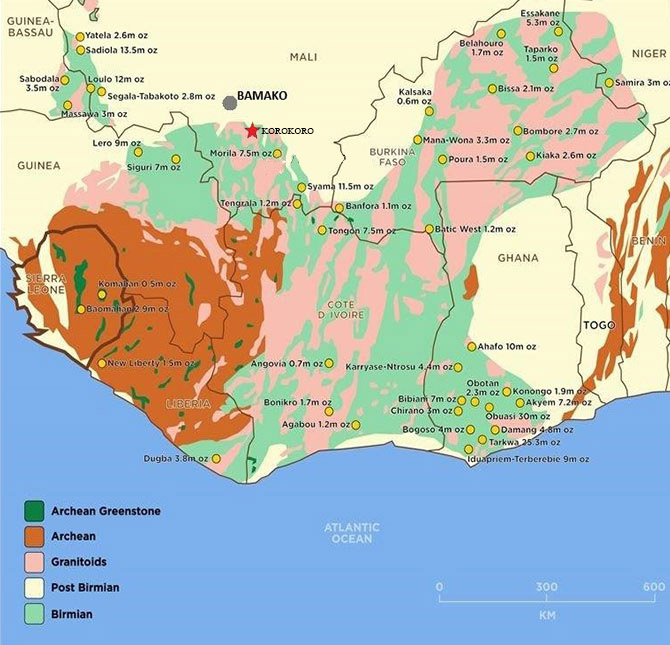 http://goldex.ca/wp-content/uploads/2017/11/goldexlogo.png
0
0
Blender Media
http://goldex.ca/wp-content/uploads/2017/11/goldexlogo.png
Blender Media
2018-03-11 12:48:30
2018-03-11 12:48:30
KOROKORO Gold Project MALI, AFRICA Project Update