April 17, 2018
VANCOUVER, BC – Goldex Resources Corporation (TSX VENTURE: GDX, Frankfurt: WKN-A2AEDT, Ticker: G6T2) ("Goldex" or the "Company") has engaged the services of Dr. Corby Anderson, Professor at the Colorado School of Mines, through Allihies Engineering Incorporated, in collaboration with Montana Tech's Center for Advanced Mineral, Metallurgical and Materials Processing, and Continental Metallurgical to undertake mineralogical and metallurgical evaluation, separation, recovery and processing analysis of samples taken from the Korokoro property.
Samples of the gold bearing laterite and saprolite ores from several known ore zones on the mine property, at a range of locations and depths have been sent to Allihies Engineering Incorporated in Butte Montana where metallurgical and process analysis is being coordinated with Dr. Corby Anderson. Dr. Anderson will be working with Montana Tech in the use of their Mineral Liberation Analyzer (MLA), which is the only commercially available unit in the Western Hemisphere. The MLA brings together ultra-fast high resolution elemental distribution analysis and liberation analysis, allowing large geological samples to be easily analyzed down to the micron scale.
This will provide Goldex with the elemental and particle based composition of the ore, and define where the gold is in what complexes, % that is liberated or is an inclusion in other particles, and what their composition is, so that the best path to extraction and recovery can be determined, and scaling to production levels at the mine site can be engineered.
Dr. Corby Anderson (QP – Qualified Person, CEng, FltWHM, FL ChemE. Dr. Corby Anderson is a professor in the Department of Metallurgical and Materials Engineering at the Colorado School of Mines as the Harrison Western Professor of Metallurgical and Materials Engineering. Dr. Anderson teaches and conducts research as a member of the Kroll Institute for Extractive Metallurgy. He is an expert in the fields of extractive metallurgy, mineral processing, waste minimization and recycling. Dr. Anderson has an extensive background in industrially oriented research and was responsible for the development and success of the Center for Advanced Mineral and Metallurgical Processing at Montana Tech. Dr. Anderson received the premier award sponsored by Tanaka Kikinzoku Kogyo KK of Japan and presented by the IPMI. This award recognizes important career contributions to the advancement of the precious metals industry, be it technological, commercial, economic or management. Dr. Anderson is a professionally registered engineer with nearly 36 years of experience in process, chemical and metallurgical engineering, engineering service, engineering design, teaching, research, professional service, consulting, management and industrial plant operations.
Goldex chose Dr. Anderson because of his proven expertise in maximizing recoveries efficiencies. The Company is looking forward to receiving the results from the metallurgical work and assay tests.
CHARLES ROSS, President
GOLDEX RESOURCES CORPORATION
For more information please visit: www.goldex.ca
Neither the TSX Venture Exchange nor its Regulation Services Provider (as that term is defined in the policies of the TSX Venture Exchange) accepts responsibility for the adequacy or accuracy of this release.
Forward-Looking Statements
Statements in this news release that are forward-looking statements are subject to various risks and uncertainties as disclosed herein and elsewhere in the Company's periodic filings with Canadian securities regulators. When used in this news release, words such as "will", "plan", "estimate", "expect", "intend", "potential", "should", and similar expressions, are forward-looking statements. Forward-looking statements include, without limitation, statements regarding future oriented events and other statements that are not historical facts. Forward-looking statements are based on a number of assumptions and estimates that, while considered reasonable by management based on the business and markets in which the Company operates, are inherently subject to significant operational, economic and competitive uncertainties and contingencies. Such forward-looking statements should therefore be construed in light of such factors. There can be factors that cause actual results, performance or achievements to be materially different from those anticipated, estimated or intended in the forward-looking statements over and above those identified herein. There can be no assurance that management's expectations or estimates of future developments, circumstances or results will materialize. Accordingly, readers should not place undue reliance on forward-looking statements. The forward-looking statements in this news release are made as of the date of this news release, and Company disclaims any intention or obligation to update or revise such information, except as required by applicable law, and the Company does not assume any liability for disclosure relating to any other entity herein.
SUITE 2300- 1177 WEST HASTINGS STREET VANCOUVER BRITISH COLUMBIA CANADA V6E 2K3
TELEPHONE: (604) 699-4300 FACSIMILE: (604) 909-4682
www.goldex.ca
REGIONAL GEOLOGICAL MAP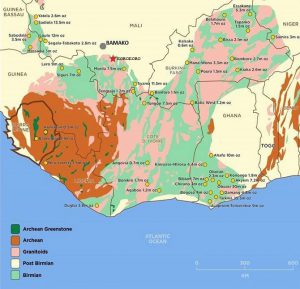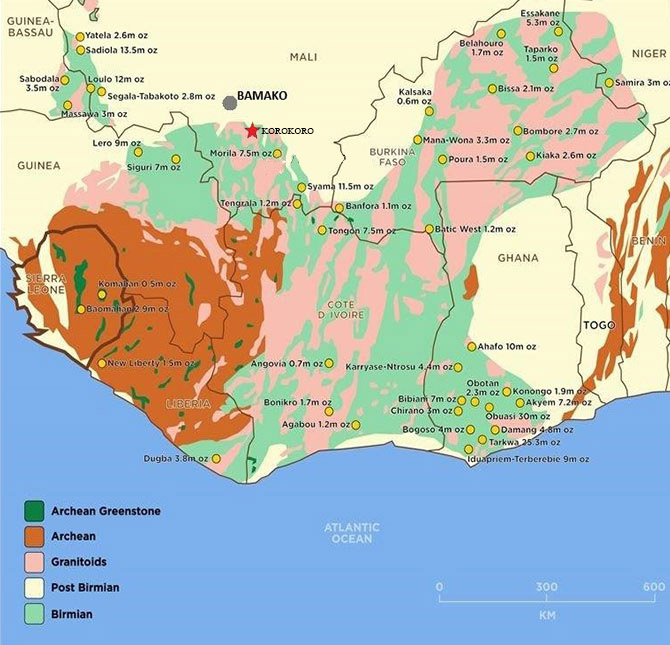 Regional geology and location of Korokoro and major deposits
http://goldex.ca/wp-content/uploads/2017/11/goldexlogo.png
0
0
Chuck Ross
http://goldex.ca/wp-content/uploads/2017/11/goldexlogo.png
Chuck Ross
2018-04-17 19:19:07
2018-04-17 19:19:07
PROCESS ENGINEERS ENGAGED